Larger Parts for Less

Highly packed composites with metal or ceramic particles optimized for metal injection molding(MIM), ceramic injection molding (CIM), and additive manufacturing (AM).
Dynamik® sinterable materials extend the capabilities of powder metallurgy processes to produce larger parts that meet or exceed dimensional requirements and MPIF standards. This is due to Tundra's proprietary additive technology, TundraKoat™, which enables loading of extremely high concentrations of particles (> 80% by volume and >97% by weight). This technology allows for higher packing in metal powder beds, Bound Metal Extrusion (BME), and Metal Injection Molding (MIM) compounds. With Dynamik® materials, the average part shrinkage during sintering can be as low as 8%.
How It Works
Commercial particles such as stainless steels, tool steels, other metals, and ceramics can be coated with Tundra's proprietary TundraKoat™ technology.

Tundra can engineer these materials to create a range of performance characteristics. These metal powders are used directly in metal powder bed processes such as Binder Jet or combined with a polymer to create feedstocks for use in processes such as Metal Injection Molding (MIM), Binder Jet Technology (BJT) and Bound Metal Extrusion (BME) 3D printing.

Formed 'green' parts are de-bound and sintered, creating a final metal part. For metal products, the process delivers material performance like wrought metal with densities approaching >99% of theoretical values. These products can be used in industries such as automotive, firearm, industrial, electrical & electronics, and medical & dental.
Scope of the Dynamik® Platform Today:
Future of the Dynamik® Platform
Tundra started the Dynamik® platform with metals that either seemed most prevalent in the market or based on customer need. We intend to continue to expand the platform methodically to cover the most commonly used and important materials to the growth of the Powdered Metal industry. Tundra has many other materials currently in development.
Future Metals
Additional Stainless Steels
Low Alloy Steels
Tungsten Steel
Carbonyl Iron Powder
Titanium
Tool Steels
Soft Magnetic Alloy
Cobalt Alloy
Controlled Expansion Alloys
High Temperature Alloys
Carbon Steel
Other Specialty Materials
Print to Sinter™: End-to-End Metal Part Manufacturing Solution
Using the Dynamik® material set, customers can rapidly create, test, and evolve metal part designs, initially using additive manufacturing processes like bound metal extrusion or Binder Jet ("Printing"), and then scale to larger volumes using additive manufacturing or MIM. Due to the low-shrink behavior of Dynamik® materials, hard-to-predict issues such as part deformation in the sintering process can be mitigated rapidly through a fast cycle of print (green part formation), sinter, learn and iterate design. This Print to Sinter™ capability offers manufacturers a unique opportunity to validate manufacturable designs faster, and lower development costs by deferring or eliminating tooling costs.

One of the main roadblocks for manufacturing large, complex, MIM parts is proof of concept of the sintering process. This typically requires cutting an expensive tool (mold) that usually ends up being changed more than once creating a long and expensive development process. Dynamik® Print to Sinter™ offers a solution that reduces time and money to validate sintering performance lowering the risk of the product development process. Dynamik® materials are the only commercially available materials with the ability to prototype large complex parts in an additive process (Bound Metal or Binder Jet) that, when sintered, corresponds directly to the scaled manufacturing process (MIM, BME, or Binder Jet).

During product development, Dynamik® materials can be provided in metal powders, extrusion feedstocks or MIM compounds for whatever rapid prototyping process you choose. Your chosen processes are used to rapidly produce, test, and iterate part designs. During this phase prototypes can be moved into certification testing with confidence that scaled production parts, also produced with Dynamik® materials, will exhibit properties just like those created during development.

During production ramp and scaling, the same Dynamik® materials validated during part development are used in whichever production processes meet your manufacturing strategy for part volumes, ramp rates, flexibility, and agility.
The figure below illustrates how Dynamik® materials, in the form you need, can be used through the product development and production process.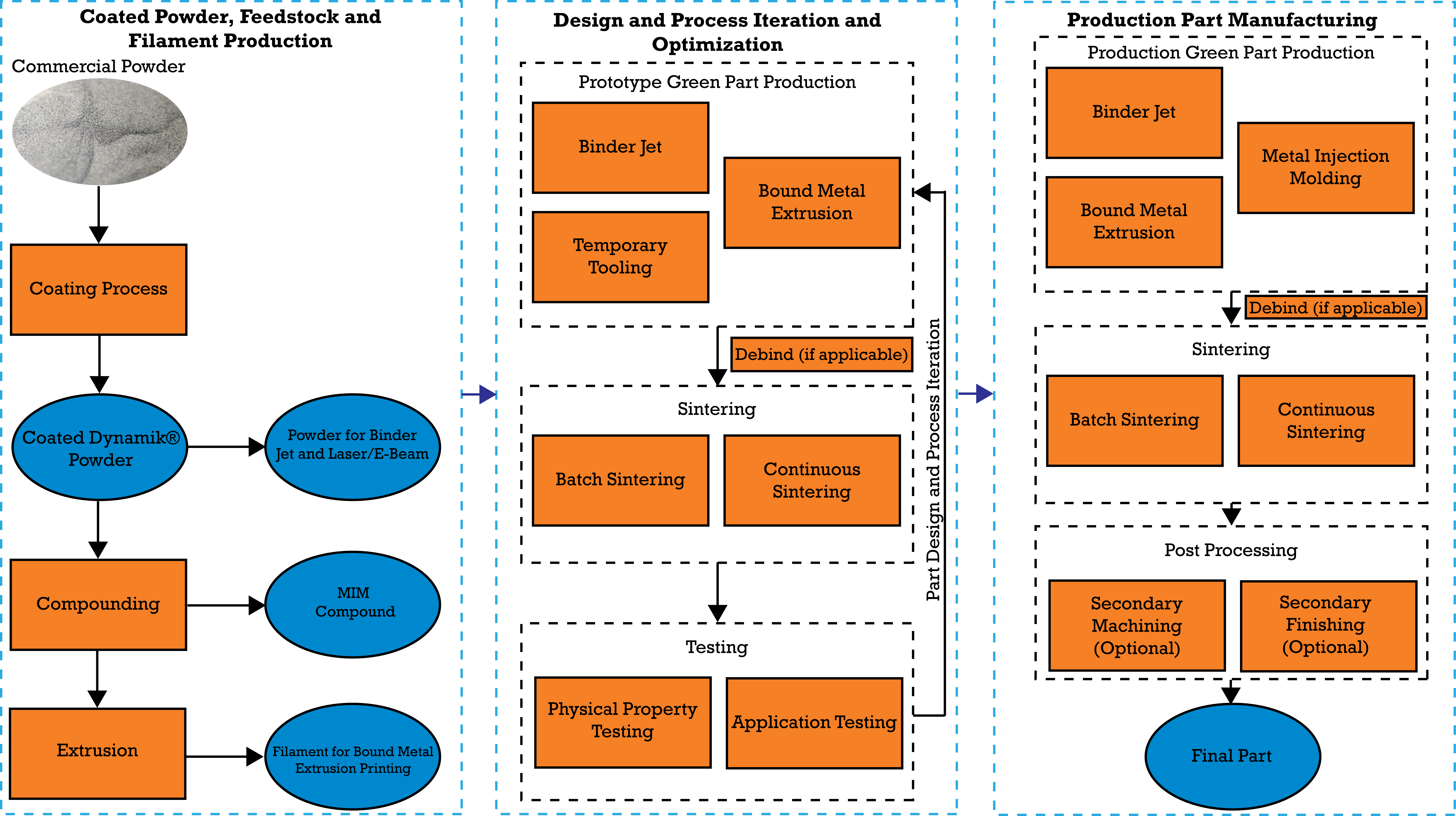 The graphs below show the benefits for Dynamik® metal powder composites produced for MIM and BJT processes. Note the substantial improvements in sintered shrink while maintaining physical processes.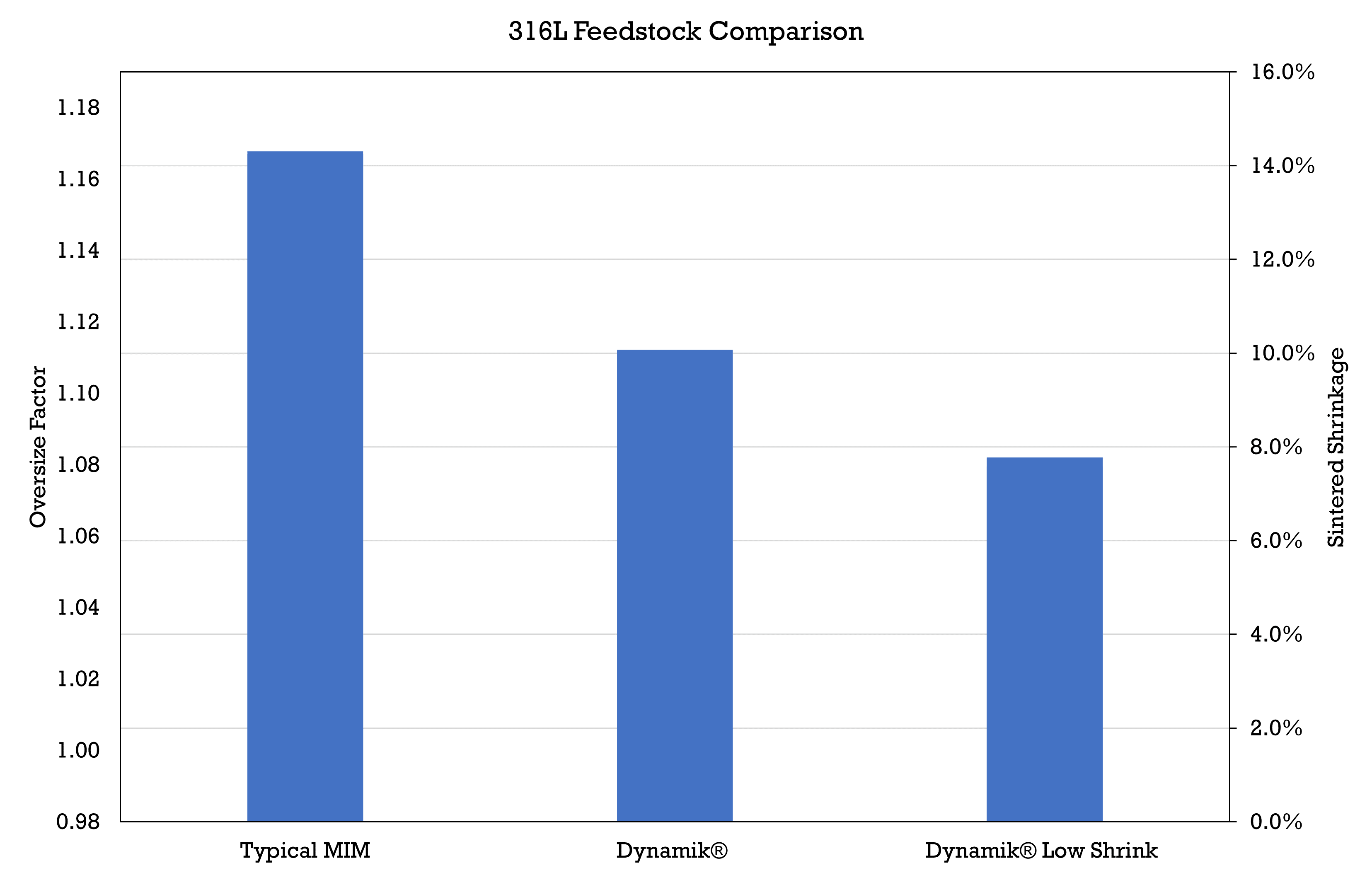 Dynamik® Platform Benefit Summary:
Dynamik® material's high packing and low shrink behavior extend metal powder process capabilities to larger, more dimensionally stable parts that meet or exceed MPIF standards, with lower cost per part compared to other large part process options
Dynamik® materials produce parts with exceptional part isotropy and repeatable properties
Dynamik®-enabled solutions for additive manufacturing processes enable fast design iteration, early de-risk of production sintering, and allow designers to take advantage of 3D printing capabilities to produce optimized topologies and/or consolidated part designs
Tundra's Print to Sinter™ metal part solution utilizes a common material set from early prototyping phases through scaled production, to minimize risk and speed up product design verification and certification steps.
Tundra can offer solutions to get you started immediately on validation of material capabilities and benefits for your applications
Target Customers:
We are looking for companies who make, use, or sell metal parts, in a range of materials, and have full part lifecycle needs – design, materials selection, and processing. We do not sell prototyping solutions only, rather, we target customers who intend to scale to large volume part making and can use our materials.
Applications for Dynamik® Materials:
Tundra can assist you at any stage of materials innovation — from idea and development through technology transfer and production.